By Pat McManamonESPN Staff Writer

The latest mock draft from ESPN's Todd McShay has the Browns taking defensive back Minkah Fitzpatrick with the fourth pick and quarterback Sam Darnold with the first.
If this plays out, it should bother nobody.
The Browns would wind up with a talented quarterback of their choosing, and a very talented defensive back who can play corner or safety.
The Browns are in a unique position, holding the No. 1 pick and having their choice of two excellent options with the fourth. They wind up in a good position regardless.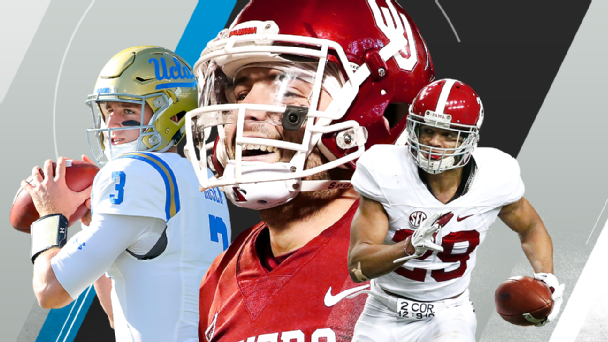 When: April 26-28
Where: Arlington, Texas
NFL draft coverage » | Full order: 1-256 »
•

10 risers after combine workouts »
•

Mel Kiper's Mock Draft 2.0 »
•

Todd McShay's Mock Draft 2.0 »
• Kiper's Big Board » | McShay's Top 32 »
• 2018 draft QB class primer »
Take it in order.
McShay continues to make Darnold the first pick. It makes sense. He has size, arm strength, the ability to move and the ability to read the field.
His turnovers (21 fumbles in 27 games) must be examined, and the Browns will exercise their due diligence.
"You got to see where that's coming from," coach Hue Jackson said at the combine. "Is it because the guy is not protecting the ball? Maybe somebody is hitting him on the arm. Maybe it's his grip. There could be a lot of different reasons why those things are happening. But again, as you just mentioned, it's something we have to find out...
Keep reading